Wisconsin Crop Improvement Association
8520 University Green
Middleton, WI 53562

800-892-1341
What is certified seed?
In the production of Wisconsin Certified seed, care is taken to protect varietal purity and to provide seed of sound mechanical quality. This is done through the following procedures:
Wisconsin Certified seed is produced directly from certified Foundation seed stocks supplied to the seed producers each year by the University of Wisconsin College of Agricultural and Life Sciences or other certified Foundation seed stock sources.
Seed production fields are inspected for varietal purity, isolation and freedom from severe weed problems.
The seed, after conditioning, is sampled and laboratory tested for varietal and mechanical purity and germination.
Each bag of seed, which meets certification standards, is tagged with an official Certified seed label.
The growers listed in the seed directory have applied for field inspection. The certification of the seed harvested is dependent upon meeting field and seed certification standards.The seed directory is for informational purposes and is not a solicitation to buy product.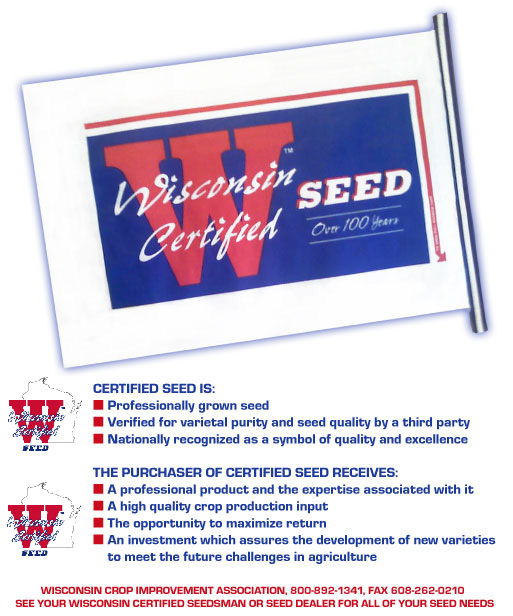 | Association of Official Seed Certifying Agencies | CoolBeans - UWEX Soybean Site |UW Madison Agronomy Dept. | Wisconsin Foundation Seeds |
Many of the files contained on this web site are in PDF format which requires Adobe Acrobat Reader...click here for free download of this software